Oct 23 2007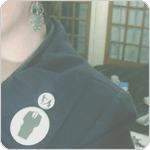 Name : Delphine C.
Also known as dayMdel, or Dayday once shortened.
Born the 23rd of August 1987.
So I'm 26 years old as of now.
I'm French, grew up in Versailles, Paris, and currently living in Lyon.
I'm studying Video Games (Concept Art, 3D modeling and animation) at Emile Cohl Art School (Fourth & Diploma year).
Before that, I studied at LISAA (College of Applied Arts) during two years : Foundation year, and first year of 2D animation.
I love owls, pocket watches, zombies, redheads, science-fiction, and the smell of grass after rain.
I'm easy to get along with, as long as you know how to cope with my constant sarcasm and bad humor. I'm patient with people, and don't get mad easily.
I also am bitchy and judgmental at times but I often try to go past it and get people chances to prove me wrong. I'm glad when they actually do.
I'm stubborn, I never run away from an argument, I'm quite the troll when it comes down to proving people they're wrong. Bad habits are hard to kill, obviously.
I'm always curious about anything, all the time. So if you have any suggestions of whatever you think might interest me, don't ever hold back, I'll always welcome those. Unless your taste is horrendous, of course.
I know I can sound harsh sometimes, but I'm actually a kind dude. I don't really bite. Most of the times. You just have to get used to me, I guess, so I hope you won't run away just now!
In this blog, you might just find anything. Be it comic strips, doodles, art school work, photographs… Anything that I find worthy of putting in here. No labels. But mostly, doodles, I guess.
Bits of my life too, clearly, but for more detailed post, I'm more likely going to use my LiveJournal for that (even if not often at all), and for more updated news, my Twitter and Facebook will provide.
And please, do no use anything I post here without my permission, thanks.
If you wish to contact me for any question or request, here's my email.
Comments Off on The Owl Queen