Jan 22 2014
I have had a tiny obsession with the houndstooth pattern lately. I think it goes back a long way, in a quiet manner. But it came back loudly this summer, when my boyfriend showed me a beautiful painting of Jeanne Moreau, that his talented step-father Tonio had painted, in which Jeanne is wearing a lovely houndstooth coat as well as a fur hat. I've since had the privilege to see the painting with my own eyes, and it's even more stunning in reality. I believe that's my favorite painting from Tonio, and here it is :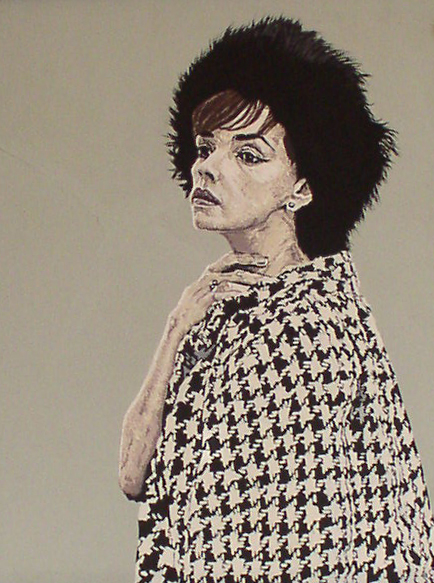 Jeanne Moreau by Tonio Marinescu
So I became a bit obsessed with this particular pattern. To the point I looked for pieces of clothing made out of it. I found the Zara scarf, a bit too late (found it elsewhere, but still waiting for it to -maybe- arrive someday). And the Zara gloves, a bit too late, again. Lucky me!
But lately, Zara edited a houndstooth top, and I just decided to go for it.
So as you can see, clothes are the main subject of today's post and doodle. And the following doodle will feature that particular houndstooth top that I now have, as well as various other pieces of clothing I don't own, but wish I did. For some, I never will, so it's a way to get to "have" them, in a weird way.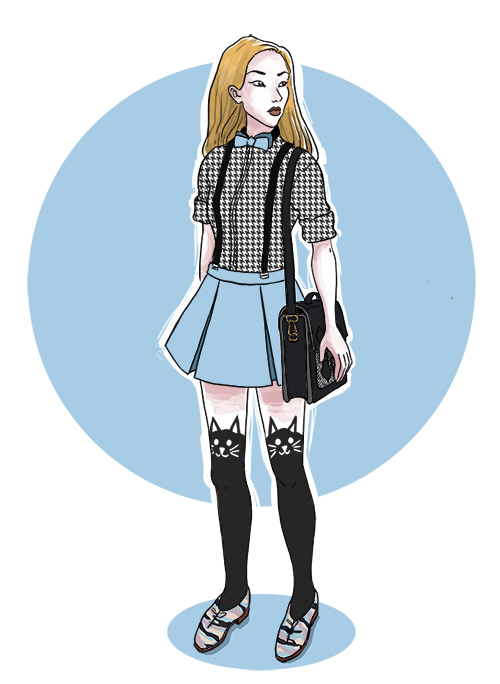 (For the curious people :
Top from Zara – Skirt from Zara – Cat Tail Thighs from Seoul Rythm – Handmade Shoes by Barbora Veselá – Bag by The Cambridge Satchel Company. And yes, suspenders and bow ties are cool.)
So here goes me, having a growing interest for fashion these past months. Because it is an art medium in which I wish to express myself. Or should I say, express myself AGAIN.
I come from a family of crafters, my mother, father and aunts are skilled seamstresses, my grandmother was a talented embroiderer & knitter, my grandfather and his wife owned a huge fabric shop that now belongs to my aunt and uncle. I've learned to sew at approximately 9 years old, I've made numerous clothes for various dolls, I've made bags and purses, and even a costume for myself (granted, that costume looked like shit, but still), when I was younger.
I always liked to sew. Somehow, I don't know why, I forgot that fact while growing up.
I discovered it again, when I made myself a skirt 8 months ago. And again, 2 weeks ago, when I had to replace a one meter long broken zipper on one of my dress, and enjoyed it (like a boss). And thanks to my super awesome family, I recently became the proud owner of a kickass sewing machine.

I now have numerous sewing projects in my head that got me excited, for the next months. One being related to a happy event in the family, a second one being related to my game project for my diploma, and a last big one I won't be able to start before this summer. I hope I'll be able to pull it off, knowing I don't have much time for anything else but my diploma for the next six months. But I'm damn ready to give it a try, and already am searching for sewing patterns matching my desires, as well as for lovely fabrics to use (thankfully, I live near my grandfather's fabric store, oh the joy!).

So expect to see more from that side. Along with the usual drawing & painting from time to time, of course!

Leave a comment :